c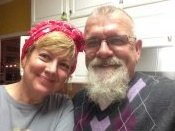 About Us
Down home Southern charm and hospitality greet you in the parking lot upon arrival at the Front Porch Quilt Shoppe.
Road weary travelers arrive with picnic baskets on their arms in order to spend the day absorbing the atmosphere and love found at the Front Porch Quilt Shoppe.
"Life looks different from the porch. It's easier to see what is important from there."
So reads the hand embroidered quilt that greats guest as they enter the 1888 Victorian house that is home to the Front Porch Quilt Shoppe. The shoppe is nestled among 4 old homes that have been relocated and restored. The shop has a classic look, benefiting its 19th century beginnings. With a wrap-around porch, a gazebo, tall ceilings and hard wood floors throughout. Finished quilts hang from old wooden clothes pins strung across the walls. Inspiration for beginners and experts alike abounds throughout the enchanting shop's myriad of rooms. The Front Porch Quilt Shoppe has something to offer for everyone whether you are Southern by heritage or just at heart.
After 20 years of military service my husband retired from the Army. We planted our roots in the Fort Rucker area, and I opened the Front Porch Quilt Shoppe in pursuit of my passion---a shop "where quilters gather." Each day I strive to share, encourage, and inspire quilters' desires to create.
The Front Porch Quilt Shoppe is a family owned and operated business that relies upon the generosity of an amazing group of volunteers to help support the shop as needed. My daughter Charley has grown up in the quilt shop. Now attending college full time she still makes time to sew, work, teach classes and make quilts for the shop and for fun. Her talent and creativity is an inspiration for the new generation of sewers and quilters as well as the more seasoned ones.
Classes are scheduled so they are not overloaded to give each student all the personal attention needed. We teach classes that are geared towards the beginning first-time quilter as well as more experienced quilters. Classes range from patchwork, and piecing techniques to varied hand work projects and creative clothing. Wonderful volunteers organize and conduct several Block of the Month clubs. The shop is fortunate to fill its rooms and tables with men and women who exude the true spirit of Southern Hospitality.
Located in quaint Ozark, Alabama, the Front Porch Quilt Shoppe is a much visited spot for the locals, those from nearby Georgia, Florida, Fort Rucker and northern Alabama, as well as tourist traveling through to the beautiful beaches along the Gulf Coast.This old Victorian style home is the perfect setting. Shoppers walking in the front door immediately feel like they have left their stress of everyday life behind them and walked into a place where life is much simpler. The Front Porch Quilt Shoppe offers true Southern Hospitality. Having the right mix of fabric, family, fun, and friendship is what is important. Everything else just seems to fall into place.

"Life looks different from the porch. It's easier to see what is important from there!"